We have had SO MUCH RAIN!
I have needed to go buy groceries and other various items since I arrived here. I decided to wait until it quit raining, but it has rained every day. I decided I was going out this morning, rain or no rain. Fortunately, it only dribbled a bit, and I didn't have any issues other than my clean car getting all dirty.
GUESS WHAT I want to do?
I want to make ANOTHER dress form.
Yes! I feel like Tammy and I have really mastered the process, and I want another one. I went to Walmart to buy some more tape today, and I had the HARDEST time making up my mind.
Just LOOK at this:
There were SO MANY COLORS. There was a pretty, shiny GOLD that I loved, but it was only half as much in the package -- 10 yards instead of 20.
There was Dark Purple and Violet and Yellow and Light Pink and Dark Pink and Silver and Red and Orange and Turquoise. So many pretty ones.
First: I chose Dark Purple.
Then I put it back and chose Violet.
Then I put it back and chose Pink Camouflage.
Then, I finally had a mature thought, and I decided I didn't want something that would clash with the garments I tried on it, so I chose the pretty Tan color that we made Tammy's out of.
So WHY do I want another one?
#1. I have two houses.
#2. I want it to be wrapped HIGHER so it has a neck, and I want it to be wrapped LOWER so it has hips and a butt.
Look at this gorgeous dress form! See the NECK. Very nice color too.
Here is another one with a neck and hips:
This one has a neck, hips, butt AND LEGS! Am wondering what the poles are. Looks like the inside core of wrapping paper maybe.
Here is a lady in pink with short legs on her dress form. I don't need that though. Maybe if I do #3, lol.
This one looks REALLY WEIRD! The leg poles make here thighs poke out funny. Maybe she was riding a horse when she was taped up.
And how NEAT is this one!!! It looks like she was spray-painted with silver. Love the pole. Maybe a lamp used to be on top of it. Garage sale purchase maybe.
Another pole idea. I have no idea what it used to be. Any ideas?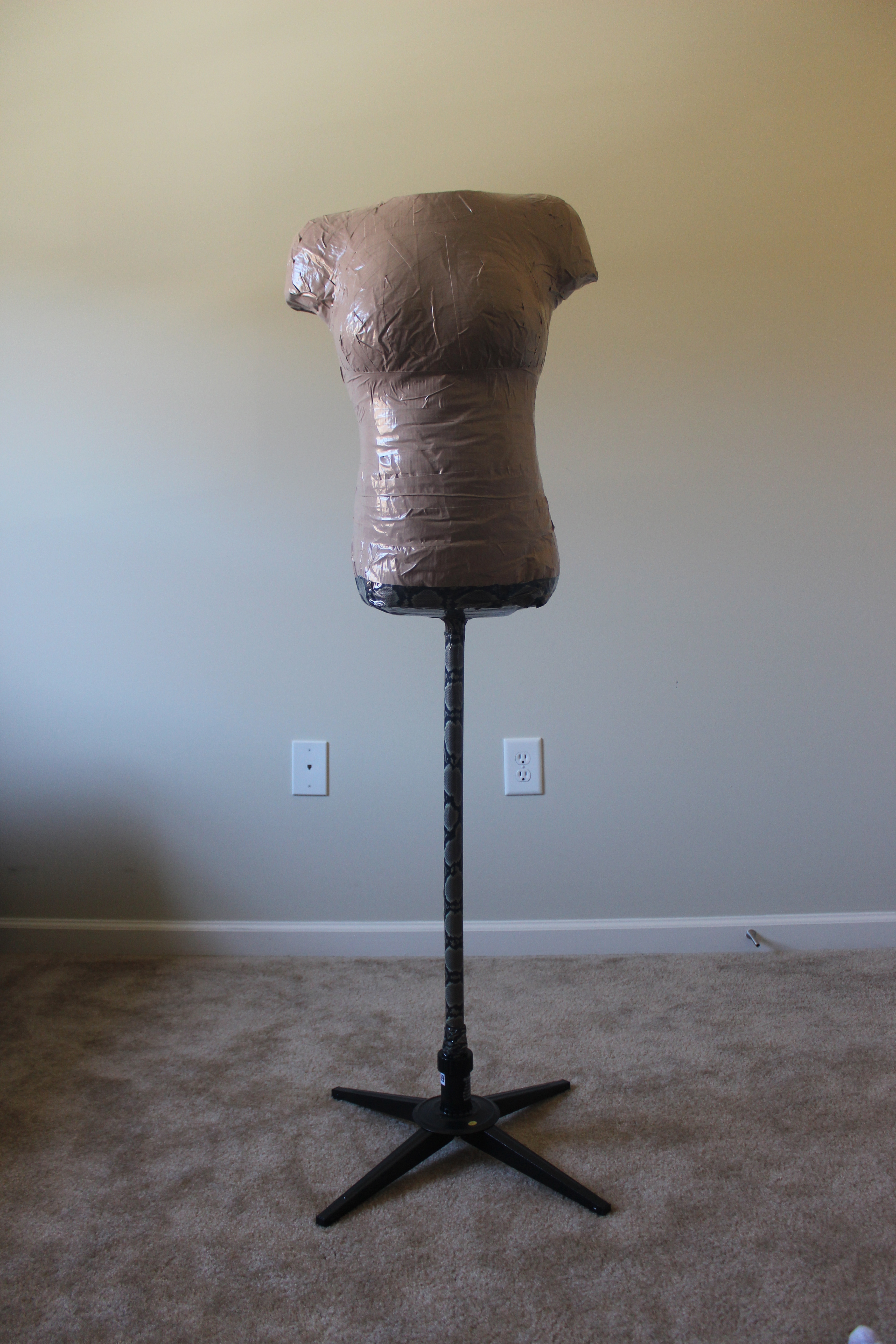 And here you go!
When all else fails, try PVC pipe and cement in a bucket.
Right now, Pinky LaRue is taking a nap on the guest bed. I'm going to have to figure out SOME way to do a pole.
WHAT THE HECK IS THIS???????????????
Gotta get. I'm trying to make a blouse, and all the cloudiness has put a damper on my wannagetitdone.
Hugs, Joy