Whew!
I have worked SO HARD today, and you wouldn't believe what at!
I've been making caterpillars.
I don't suppose that sounds too complicated, but it is.
You know WHY?
Because caterpillars are the UGLIEST things. I don't know HOW they turn into such beautiful butterflies.
Check this one out: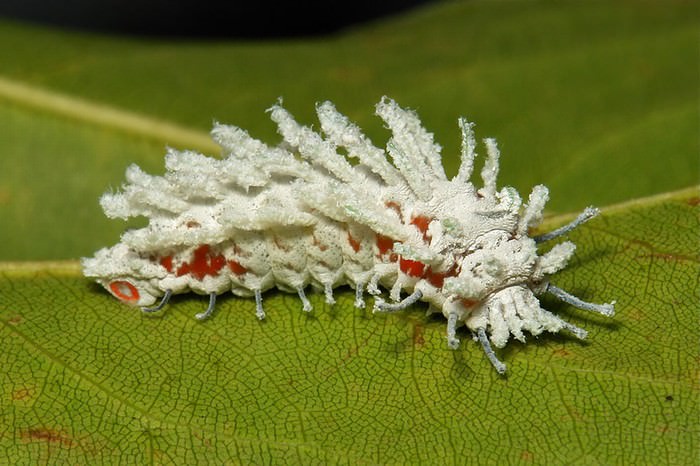 And how about this guy?
This guy needs to go on a DIET! Looks kinda like my chins! The colors are really pretty though.
Look at this handsome devil!
And this one almost makes me GAG! No wonder they can eat an entire leaf in a day. Look at that roto rooter in his mouth!
Now, you will understand why MY caterpillars look kind of weird. It is a whole lot better than what they REALLY look like!
I have three rows ready to put together. All the butterflies and worms are still LOOSE. Thought I should finish a few rows to be sure of color placement before I make them permanent.
If you haven't already seen it, here is a new VLOG for you. I was trying to explain to Princess Di who Irena Bluhm is, and I decided to just do a video for her. I talk about how to applique these butterflies also.
Here are some of Irena's gorgeous COLORED quilt tops. They are WAY more amazing in person! This is just a little wall hanging. I would LOVE to do one!
I took several classes from her to learn her background fills as well as how to make colored quilts.
And here is Irena. She is so cute. Her personality is lovely. I used to take classes over just to be with her.
Time to fix supper for Jerry. I'm always so happy when he walks through the door after work at night. Always have been. I am usually standing there waiting for him.
Be back soon. Hope you are feeling better, Jolene.
Hugs, Joy