I put together another knit top yesterday. It was not SFD -- it was New Look 6977 -- the knit top: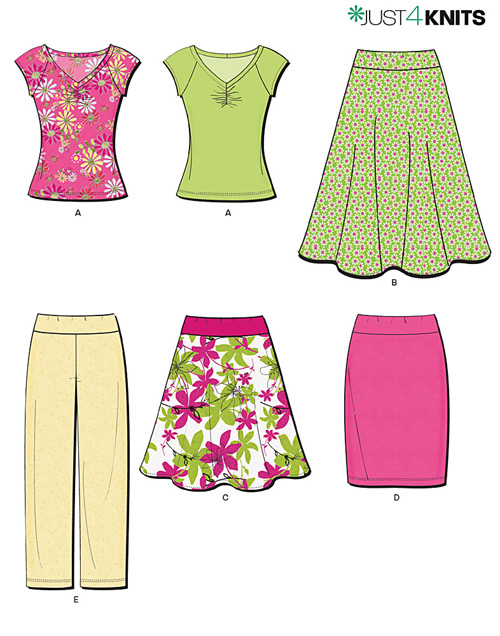 I worked on getting it to fit for hours. Didn't know how to do those sleeves on SFD, and I hate to bother Glenda constantly. Then I cut it out and sewed it together. Then I decided I just didn't like it, although I did a great job getting the bust right. Anyway, it is in File 13 now. I don't like clothes I have to mess with to get them to settle on my body. It didn't feel good on, if you know what I mean.
So after yesterday's emotional highs and lows, and the knit top that didn't work, I decided to get my Route 66 Quilt out of the closet. When I first brought it in, it was two large pieces that had not been joined in the center yet. So I sewed them together in the center, and this is what it looked like:
So then I found the black cotton fabric I saved for this project and put it up on my table and started cutting strips to sew on the top, bottom and both sides.
It took 9 1/2 strips to get all the way around the quilt. Sure am glad for all my quilting tools. Makes a hard job so much easier.
This quilt is so big, I couldn't really finish it like the pattern called for. My walls up here are 9 feet tall, so I had to get this quilt to stop at 9 feet. I added 6 1/2" borders all around which makes the finished quilt -- before it is quilted -- 9 feet by 8 feet. Here is what it looks like now:
I know you cannot tell what any of the blocks actually are, and if you aren't a quilter, you may not care. BUT, I wanted to have a record of it in my blog for myself, so I made this video. You can see the blocks up close on this video that took SIX HOURS to download today. I pushed the wrong button on my camera, and I got too fine of a video. I converted it to a smaller version, but .... I haven't finished my video courses yet -- what can I say? Here is the video in which I announced today is February 6 -- wrong, of course, it is March 6. It takes too long to upload to fix it now.
http://www.youtube.com/watch?v=OtgpbQoIVm0
My husband is up here as I am typing this post, and you won't BELIEVE what he is doing. Well, let me show you some pictures...
Yep! He has decided the black border really IS Route 66, and I have to put stripes on it. Doesn't sound that complicated, right? Well, if you can figure out HOW to do it, please let me know. We have tried ribbon, fabric, stay tape, ultra suede and various other items in my sewing room. Jerry has written me a page of instructions and has drawn little pencil marks all around my cutting board. This should have been PIECED into the borders before I attached them to the quilt. I'm not ABOUT to take them off, so I must find some way to put white stripes all the way around the quilt. Jerry really likes this quilt. He doesn't like geometric quilts like the one at the top of this page with my face on it. He likes "picture" quilts. He says this one has meaning and is very special. SO, if he wants me to add something to it, I will. I'll keep you posted!
Gotta go. Jerry wants to watch the election returns.
Hugs, Joy