Goodness! It has been five days since I have posted.
I've been in a bit of a funk for some reason.
MAYBE it is because I quit drinking caffeine and have reduced my coffee-pot-a-day of coffee to just one cup of DECAF.
Well, maybe a cup and a half of decaf.
And I probably should confess that my coffee cup is more like a tankard.
But STILL, I have not had any caffeine except for traces left behind in the decaffed version. I haven't noticed anything drastic such as an all-day headache, and I have had NO acid reflux! That is the best part, for sure. I would drink hot tea like Phylly does, but it tears up my tummy worse than coffee does.
I've been busy though. I spent two whole afternoons making a bracelet for my GORGEOUS daughter-in-law. Wonder if I have a picture somewhere to show you. I'll check in a minute. This bracelet is quit intricate, and I had to special-order the little bugle beads in the center of each link. Seems like no matter WHAT pattern I choose, it will have one or two beads that I do not have.
The pattern for this is called Picket Fence.
Here is the one I made several weeks ago when I did NOT have the right beads for the center diamond shape. I like the colors, but it is kind of collapsible because I used the wrong beads in the center.
Here is a picture of Hollie sitting next to my Army Man -- her husband -- my grandson -- and, of course, I squeezed my big butt in that picture. It's a wonder the swing didn't fall down!
After I finished Hollie's birthday bracelet, I tried a another new pattern. Don't remember the name of this one, but it wraps around your wrist THREE times. Unfortunately, I made it quite a bit too long for me. I love it, but it is really too long. If Hollie likes it, I will give her this one too. Her wrist - believe it or not -- is one inch bigger around than mine. My wrist is the only thing that is still tiny on my body!
I did not have a single copper-colored clasp in my two boxes of clasps, so I had to MAKE this one myself. I am quite proud of it. I had already put a gold magnetic clasp on this bracelet, and I had to CUT IT off! I was so afraid I would destroy the bracelet, but all I had to destroy was the gold magnetic clasp. This copper one looks a million times better.
This bracelet is 21 inches long! My wrist is 5 1/2" around. Way too long for me. Darn!
Phylly has informed me that she is way too busy to read my blog these days, so she probably won't even see this, but JIC she stops by, she said she couldn't remember seeing a picture of what I did with the blue flowers. COULD BE because she doesn't read my blog, lol. I'm pretty sure I showed you this. Remember the matching bracelet I made to go with it? Of course, I'm sure none of you have anything better to do than keep a mental note of all the stuff I show you on my blog!
And Carol Ann asked me what pattern I used to make this skirt, and later a black one. It just DAWNED on my lightning fast brain that these two skirts are still PACKED somewhere in a box that I brought back from our other house. STOP THE TRAIN while I go look for them! O-=
WHEW! They were in this bag folded into small blobs.
Isn't it amazing how you can do that to knit, and it barely shows the wrinkles? Neither one has been hemmed yet, so I will start that as soon as I say goodbye to you. It is a little puzzling why one seems to be much longer than the other.
The pattern? Hmmmmmmmmmmmmmmm. Let me think.
It is New Look 6288. I made view A. I took my skirts in on each side from below the hip to the floor as I think the pattern is a bit full at the bottom although it doesn't look like it in the picture.
NOW, I better get those skirts hemmed if I ever hope to wear them. Fortunately, Jerry is watching a football game in the next room so he can check the hems for me. Some of the pins fell out in route.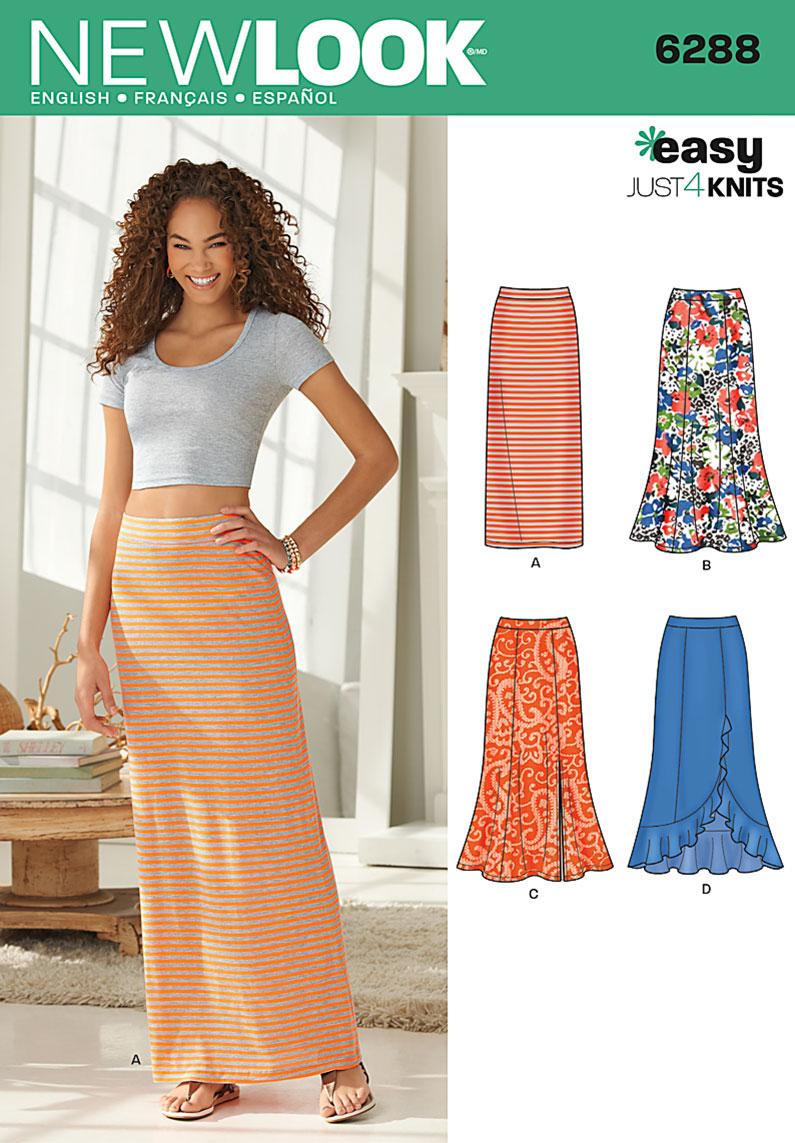 Have a nice weekend, and I'll be back soon.
Hugs, Joy