Can you even BELIEVE that it is OCTOBER?!
My new great-grandbaby in November, then Thanksgiving and then Christmas.
WHY do I suddenly feel very behind???
Just in case you haven't already seen it, here is my latest VLOG where I show you the cutest baby gifts I made for Luke. And, YES, that is Terry with her brand new Millie! She is learning how to quilt with rulers today. She is going to be really good. She is determined, like I am. When we choose a hobby, we want to know everything about it and we spend many, many, many hours PPP'ing. (Practice, Practice, Practice)
Mom and I were sitting on the patio yesterday -- her in the glider and me in my swing -- and I just happened to look around our yard. I had just told Mom that the leaves should start turning soon. What a surprise when I noticed several trees that have already turned yellow and red.
AND, I saw three leaves fall down!
The pastor talked about COMMUNICATION IN MARRIAGE this morning. Jerry and I actually passed with flying colors. After 42 years, we should be able to talk to each other.
I did NOT agree with Pastor Hagee about women turning on tears to get their way, although I'm sure it happens. Tears -- at least in my case -- had everything to do with PMS. And I had the WORST PMS ever recorded, I think.
Jerry, being a Pharmacist, would never allow me to take any prescription drug to calm me down out of "angry tiger" mode, so he just put up with it. He is a VERY strong man emotionally.
Talk about tears.
Good grief.
You could have filled Lake Texoma with mine!
I'm old now, and that part of my life is past. I will NEVER miss it, and neither will Jerry. I cry now if I am totally stressed and people are pulling me every which way but loose. Very seldom. Thank God!
I'm a happy girl most of the time as you can see in my videos. I dance and I sing and I praise God, and I adore my husband.
Speaking of husbands. Mine just got back from a short fishing expedition. He was trying out his birthday present to see if it worked, and it didn't. BUT, he put out one of those umbrella things and started trolling. He caught THREE FISH AT ONE TIME. One is 9 pounds, one is 4 pounds and one is 3 pounds. I wish I had had my phone with me, and I would have snapped a picture for you. You should see the umbrella lure. It looks like someone ran over it with a car! I wish I could have gone with him, but I had to stay with Mom.
Umbrella thing: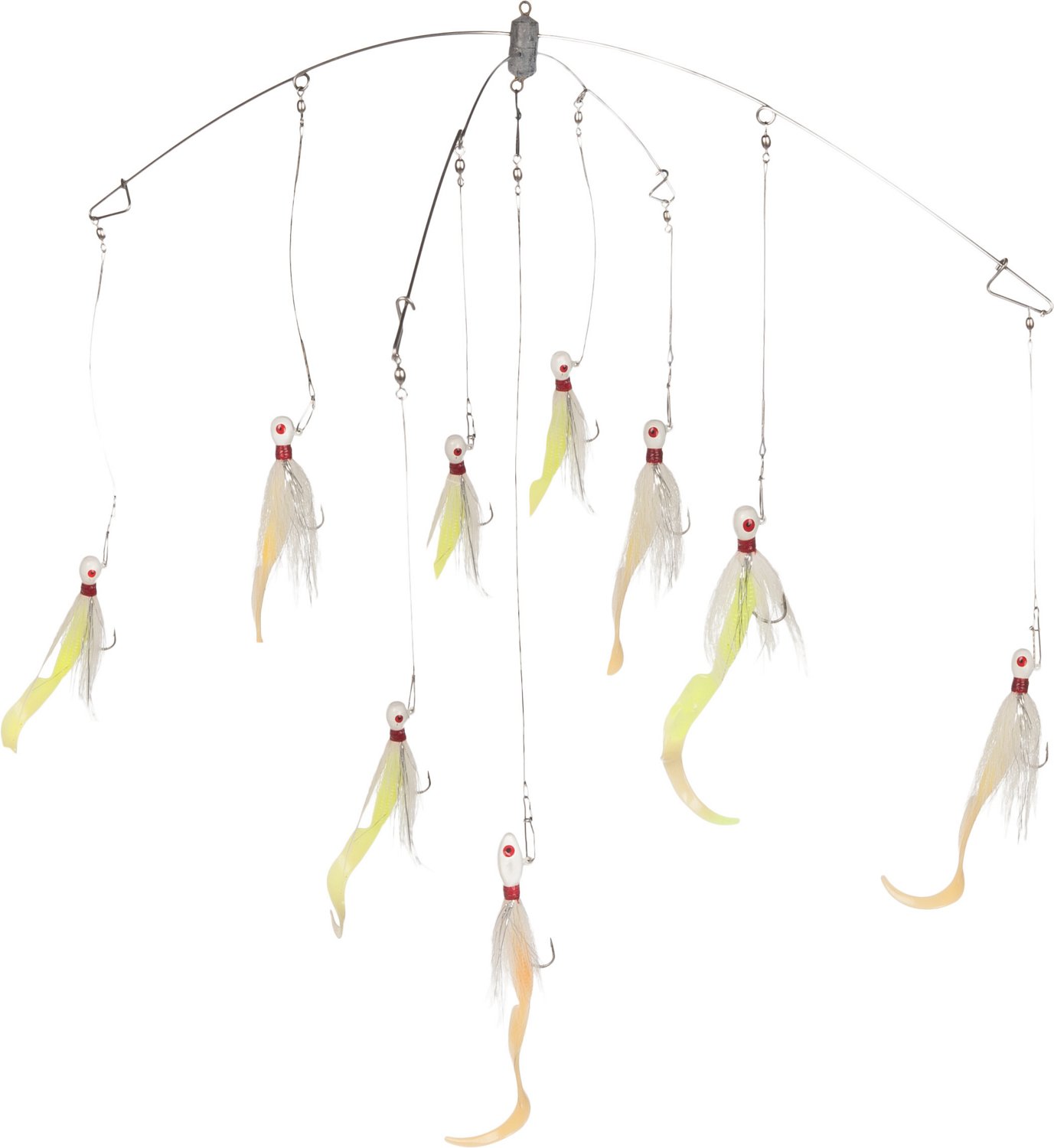 Can you imagine wrestling three flailing fish at one time on that thing!?
Won't keep you. Need to get downstairs and prepare the fish fillets for freezing. We will be having a fish dinner real soon! We need some company to help us eat it.
Have an amazing, fabulous, wonderful, blessed in every way week!
Hugs, Joy